Strain Gauges (SG) Application
With the aid of a strain gauge, strains and stresses in material can be determined, which enable conclusions to be drawn about the stress of the component.
We conduct professional in-house SG applications on your components tailored to your specific needs. Thanks to our employees' many years of experience in the field of SG application, we ensure the highest quality and a very long life of the measurement points.
We would be happy to provide you with supporting advice for your project with respect to the following points:
Precisely defining suitable measurement points with the expert assistance of our experienced employees
Upon request, we will create a computer simulation using the finite element method (FEM) according to your design drawing in order to forecast and visualize forces (stresses) that may occur
Careful selection of suitable strain gauges
Labeling and wiring as quarter, half or full bridge for torsion, bending, tension and compression force measurement...
Application of hot-hardening adhesives, chemically resistant and over many years
Bridge resistor quarter bridge: 175 Ohm ... 2500 Ohm
Bridge resistor full bridge: 120 Ohm ... 5000 Ohm
Possibilities of connection technology: 2, 3, 4, and 6 conductors
Compensation of temperature influences and other disturbance variables
Temperature range: -40 °C ... 200 °C
Applicable component material: aluminum, steel, plastic, ceramic...
Proper protection against environmental influences: mineral oils, silicone oils, moisture, splashing water, pressurized water, overpressure, negative pressure...
In-house hot applications of SG for measurement objects with a weight of 100 kg and dimensions (L x W x H) of 800 x 500 x 500 mm
Contact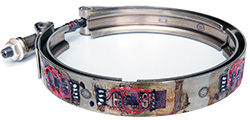 Strain Gauge Application on Clamp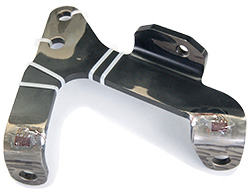 Strain Gauge Application on Holding Bracket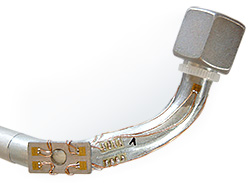 Strain Gauge Application on Oil Line




Strain Gauge Application on Tie Rod